Why send your dog to daycare?
The purpose of day care is to exercise and let your pet socialize with other pets. Many troublesome dog behaviors are a direct result of boredom, anxiety, and loneliness. Dogs yearn for companionship.
Dogs left home alone during the day may experience separation anxiety or display undesirable behavioral issues such as chewing and excessive barking. These can occur when a dog lacks sufficient exercise and socialization.
Emmy's Barking Lot is your answer! Why Emmy's? Check our what makes us different here!
While you are at work, your pup will get to socialize with a pack of dogs and burn off excess energy that would otherwise be taken out on your brand new pair of shoes at home. Unlike most facilities, we allow our pups to choose what makes them happy. They choose who they want to play with, when they want to play and where they want to do it!
Our staff is made up of experienced dog handlers and trainers that have been working with and training dogs for at least two years. Every one of our team members know how to read dog body language and make sure that all of dogs are playing in a calm, safe manner. We make sure that every dog in our care feels comfortable and relaxed while hanging out with the pack. This means that nervous dogs, crazy puppies, and older wise dogs get reassurance and proper corrections from the handlers and other stable pack members. Puppies learn how to properly socialize by interacting with older, stable dogs. If you have a social puppy, you can take him everywhere from the pet store to your friends house, and get complimented on how well your puppy is behaving. Who doesn't want that?
Our facility consists of both an indoor play area as well as an outside play yard, and the dogs can go in and out as they please. The play yards have plenty of shade when needed and an abundance of water that is freshened frequently to ensure no one gets too hot or too thirsty while playing. We provide plenty of toys to play with - giving the dogs something, both mentally and physically, stimulating to do so when their day is over, they will go home tired and happy.
All of the dogs that enter our pack must pass a temperament test and be up to date on all vaccinations required to ensure everyone's health and safety.
We are open for daycare Monday-Friday 6:30am to 6:30pm.
Contact us at 781-826-0700 for more information.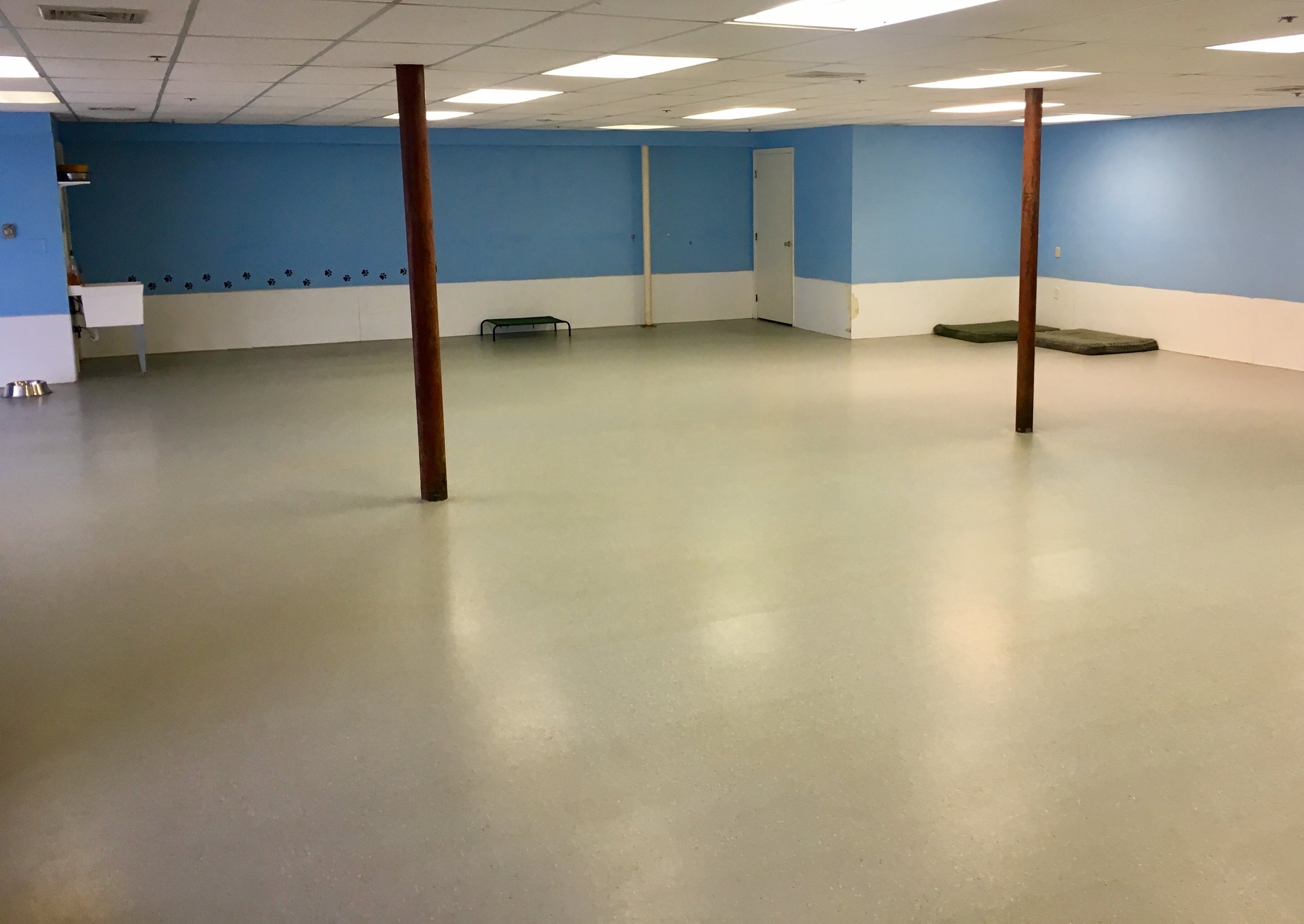 HANOVER:
2000 sq. ft. Indoor Space
HANOVER: 500 sq. ft.
Outdoor Space
Kingston has 6000 square feet of indoor space, with 3 different dog rooms! Scroll below.
KINGSTON:
5000 sq. ft. of Outdoor Space!