Emmy's Barking Lot aims to provide a holistic, integrated approach to pet services. We provide daycare, training, home boarding, basic grooming, and much more! Our goal is to return to you one tuckered-out and well-behaved dog. We will work around the clock to make sure that your dog will be as happy and as comfortable as possible. There are many dog daycares out there, but only one pack like Emmy's. Here are a few reasons why we are different:
We accept dogs based on behavior NOT breed.

We offer 1/2 day playtime, at whatever time works best for you!

We take pride in how CLEAN we maintain our facility.

We are drop-in friendly!

We do not have minimum visit requirements.

We have an open door policy - come see for yourself :)

We actively work with every dog to make them as comfortable as possible.

When your dog boards with us - they come HOME with us!
We are very proud of our "pack" mentality. All of our pups are in one area, regardless of size, breed or temperament. Both the Hanover and Kingston facilities provide plenty of both indoor and outdoor space. The dogs are free to choose where they'd like to play, and with whom. Dogs shouldn't be filtered out due to size or breed. Sometimes the smallest dog only wants to play with the big guys! We find that all of our packmates naturally gravitate towards friends who fit their personality. Puppies play with puppies, the shy dogs play with more reserved, rough players with rough, etc. We believe every dog should be able to choose their friends!
We are obsessed with our family environment. We intimately know every single dog, and every one of their particular characteristics. By keeping our staff-dog ratio low, we are able to work with dogs who would not normally be able to be in an off-leash setting. Our intimate pack setting allows us to give each dog the attention and training they need in order to be as comfortable as possible around other dogs and humans alike.
The staff not only works to ensure the pack is playing in a safe and healthy manner, but they play as well! We are proud of our ability to ensure every dog knows our standards, or "school rules." We keep the group dynamic fair and even, which allows for even the most timid dog to feel comfortable enough to play. Our small facility enables our staff to intimately know each dog and thus enabling an environment where the dogs can play hard or rest, depending on the needs of the pack.
Most importantly, Emmy's Barking Lot was created out of passion and love for animals. After the passing of our founder, Emmy, it was imperative that her pack continued to receive the love and care Emmy provided. Emmy's Barking Lot will forever be a reflection of that passion.
HEAR IT FROM OUR PACK: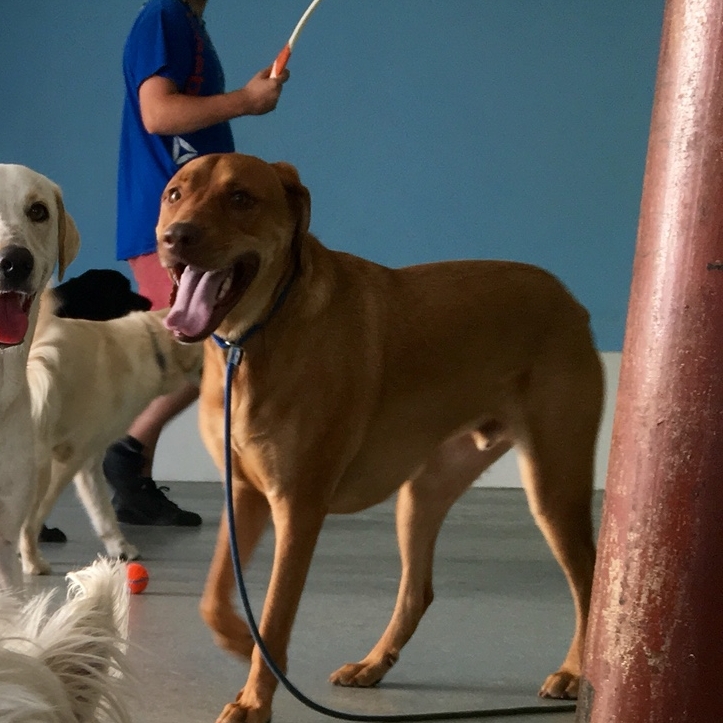 "We had to put down our golden retriever due to cancer. A year later my wife and children surprised me with a rescue dog from Alabama. The description said he was a lab but I know his father was a traveling man. This dog has a ton of energy. Took him to Petco and he passed puppy 1 and puppy 2 training. Still had socialization and "anger management " issues . I felt he needed more socialization and dropped him off at 8 at Emmy's Barking Lot. Received a call by 9:30 to come get him as he was causing issues. Worked with Lenette on some Saturday private lessons. Practiced what we learned and was able to bring him back in.
The "pack" accepted him and he loves going. He knows when are heading there and eagerly jumps in the car. He comes home tired and happy. It's been an amazing transformation in my dog. They reinforce the training and he is now a model dog. He socialized with all breeds and sizes of dog. He has gone from worst to first in behavior, a pleasure to walk and have around home. Kudos to Kate, Lenette and the team at Emmy's. My dog is a better pooch and we are VERY happy with this facility. I highly recommend them. Bring in your pooch and give them a try!" - Maynard S.
Skylar and Cody were 8 week old rescue dogs when my wife "surprised" me with them on a dark snowy night.
We have always believed in socializing and making sure the kids get plenty of exercise and play time as we believe that there are no bad dogs, only bad parents. We had tried a couple of different daycares before Emmy's was opened and we could tell that the kids were never super excited to go and even came home still full of energy. My wife had heard about Emmy when she was doing dog walks / training so we had reached out to her as the kids were still in their training stages, she did a phenomenal job with them and we could tell she wasn't in it just for the job but truly loved what she did.
When we found out she was opening a daycare we sent the kids right away; I believe they were both part of the initial pack! They absolutely love to go, they know what days they are going and NO leashes are needed, I open the door and they run to the door barking up a storm. When they come home at night they are "dog" tired and you can tell they had another good day. I can't say enough about the staff, they all have kids and always talk when I pick them and ask questions about them and tell me how they did for the day. Emmy's Barking Lot is an awesome place for the kids to interact with other dogs and get great love and attention all day long. They accommodate you every way possible with pickups, baths and even changing their hours to help out the working parents.
Our kids love the pack and will be there every week!!" - Brian & Michelle Z.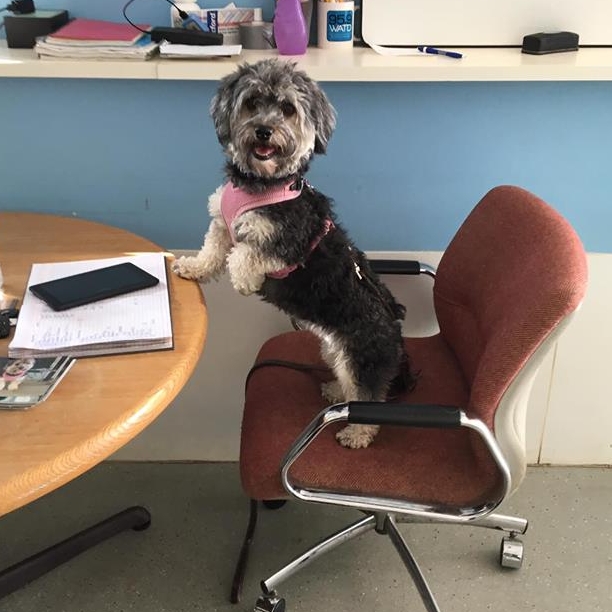 "Snickers is a 1 1/2 year old Havanese. She loves going on walks, riding in the car, and meeting new friends (people & dogs). It wasn't always this way. As a very young puppy, I realized she was so anxious, it prevented her from reaching her full potential. I tried everything, from a trainer, homeopathic medicine natural herbal remedies, and conventional prescriptions. Nothing worked. After 9 months of taking her on leash and walking on a regular basis, she finally learned to really love her walks. However, when she encountered people and other dogs, she was scared and nervous.
I set out to socialize her and felt that daycare would be a good, safe option. After 2 different daycare attempts failed because they would not take the time to deal with an anxious dog, I was frustrated. I happened to be driving by one day and stopped in Emmy's Barking Lot. When I asked how they felt about dogs like Snickers, the reply was "I like working with anxious dogs. It is so rewarding to watch them really come into themselves." They let me bring her in and stay for a short time with her, making me feel more comfortable, which was not my experience at the other 2 daycares. I found all of the staff and the owner to be caring, knowledgeable about dog behavior, and very patient.
After only a week we saw a difference in Snickers. After a few months, she was a totally different dog at home and at Emmy's Barking Lot! Now when we walk and encounter people and dogs, she isn't afraid. She loves being a part of the pack, playing with the other dogs and interacting with the staff. Kate, Carol and all the staff truly made a difference!" - Cathie F.